Christina Collins
Christina Collins is a local mixed media and brick artist. Christina is a member of Michigan LEGO® Users Group, has been featured on Interlochen Public Radio, and builds at History Center of Traverse City during annual brick events. She has taught both art and LEGO® to children ages 4-17.
In 2014 Christina founded Bricks and Brushes allowing her to work towards dedicating her life to Children and the arts!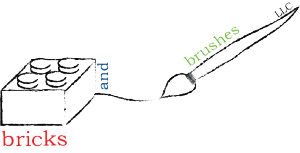 Mission Statement
The Mission of Bricks and Brushes to bring creative education and enrichment opportunities to children and adults by providing classes, workshops, and events to encourage creative education, foster communication skills, and build relationships within our community.